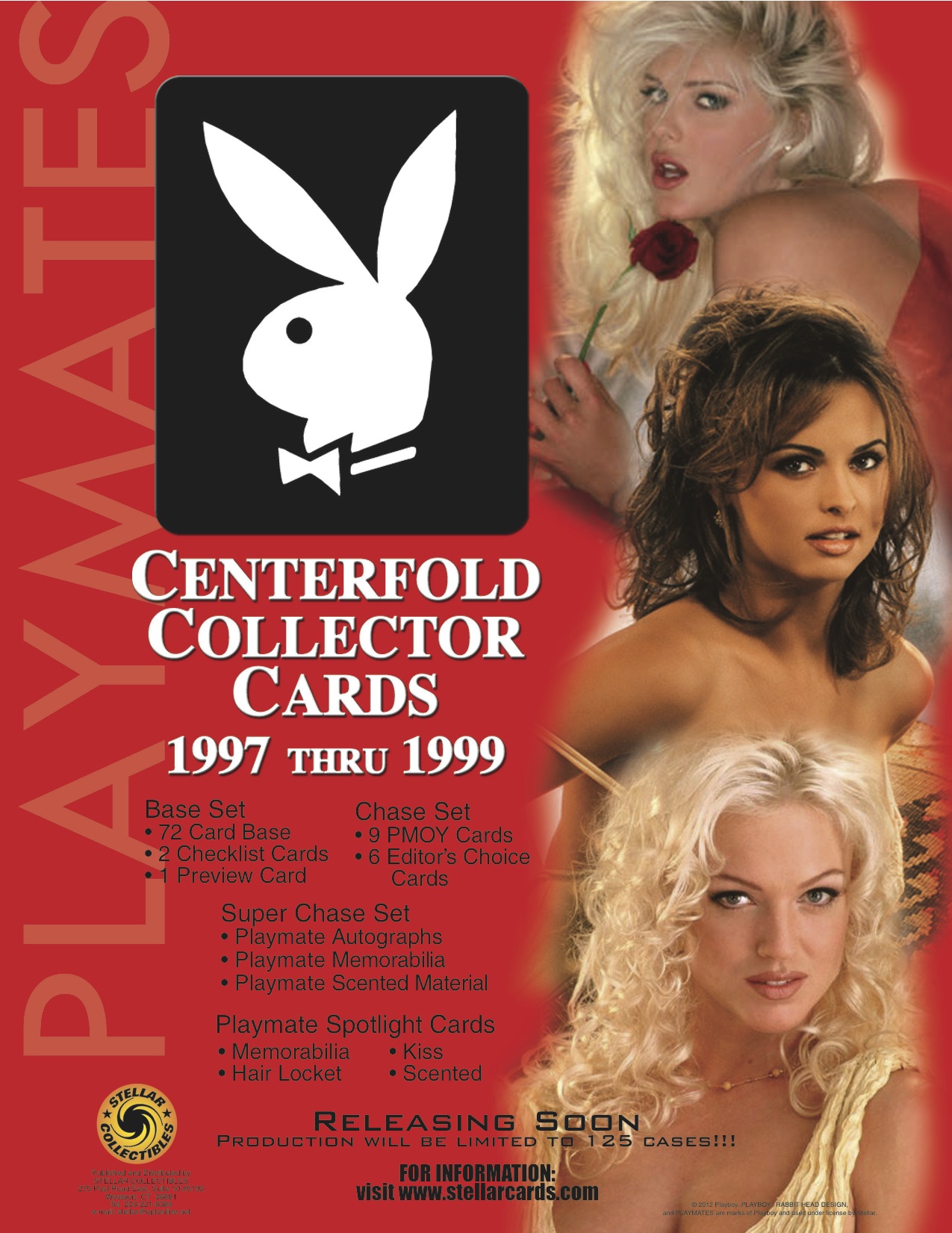 Centerfold Update 2 1997-1999
The long awaited Centerfold Update 2 (1997-1999) is finally here !!!
This release features all your favorite Playmates from the years 1997 thru 1999. Our new card set will feature a trio of Spotlight Girls, Tishara Cousino, Jami Ferrell and Carrie Stevens. Each girl will have 4 cards available in the Spotlight Series including Memorabilia, Scented Material, Hair Locket and Kiss cards. In additional there will be 3 Playmate Autograph cards, 13 Playmate Memorabilia cards and 12 Playmate Scented Material cards, scented with the Playmates favorite perfume. All super chase cards will be available not only in the base gold foil color but also in parallel foils in hot pink and platinum! Two gold chase sets round out this release, Playmate of the Year (for the years 1997-1999) and Editor's Choice.
This limited edition set promises to sell out pre-release so please place your orders now!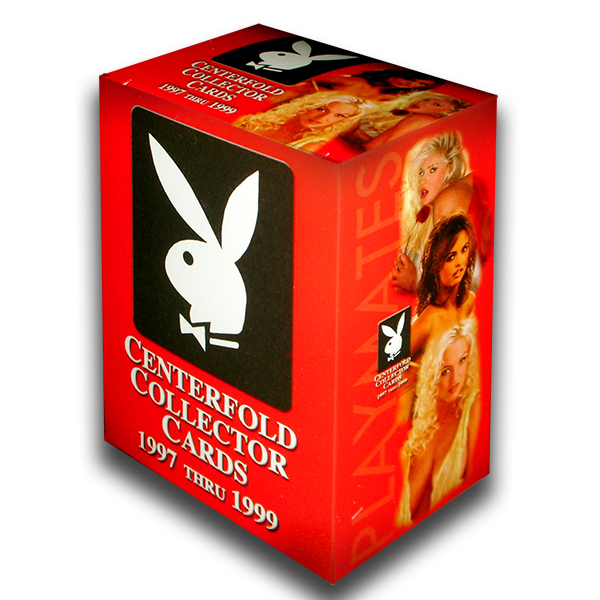 Production will be limited to 125 cases!
12 boxes per case
96 cards per box

WHAT'S INSIDE
Tishara Cousino, Jami Ferrell, Carrie Stevens
Spotlight Memorabilia
Spotlight Scented Material
Spotlight Hair Locket
Spotlight Kiss
Spotlight cards are inserted 1 in 3 boxes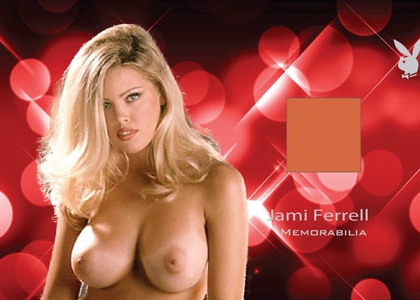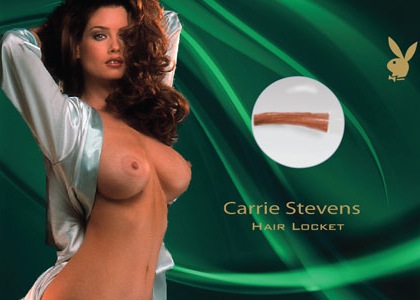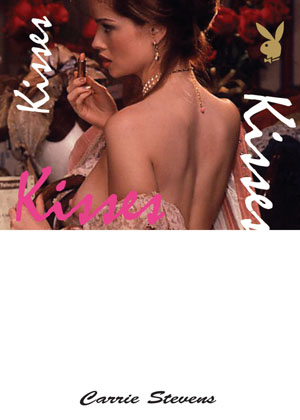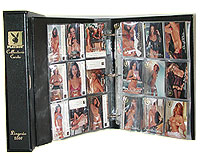 Production will be limited to 25 sets!
75 card base set, including 1 preview and 2 checklist cards.
All 15 gold chase cards
All 13 foil stamped Playmate Memorabilia cards, all numbered to match your set
All 12 foil stamped Playmate Scented Material cards, all numbered to match your set
Packaged in a beautiful leather bound gold stamped collector's case.
*All stated odds of insertion are approximate and may vary. Therefore these cards are not guaranteed to exist within each individual box or case. Stellar Collectibles reserves the right to not honor claims or requests resulting from insertion variances.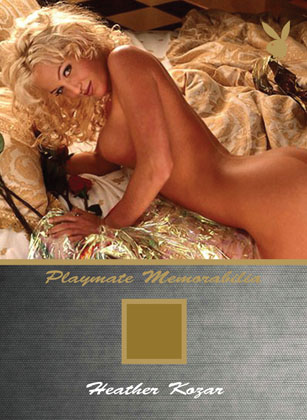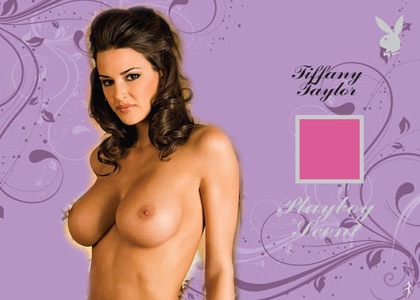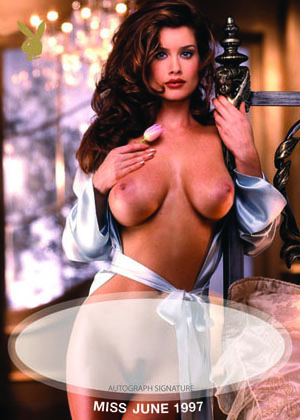 Super Chase Set

What's Inside
13 PLAYMATE MEMORABILIA CARDS, Material from actual lingerie

12 PLAYMATE SCENTED MEMORABILIA CARDS, Material from actual lingerie and featuring the Playmate's favorite scent.

**Please note** Some Playmates appearing in the Memorabilia and Scented Material will be the same, however the material will be different in each set. The Scented memorabilia cards will come sealed inside the box, if you break the seal we recommend you reseal it as soon as possible as the scent will evaporate with time.

3 PLAYMATE AUTOGRAPH CARDS
Super Chase cards are inserted 3 per box and may be any combination of the above cards.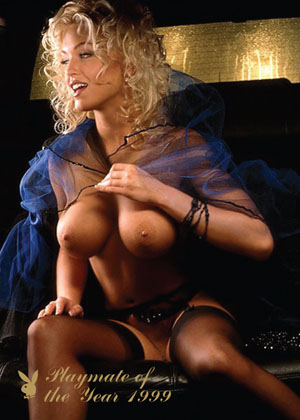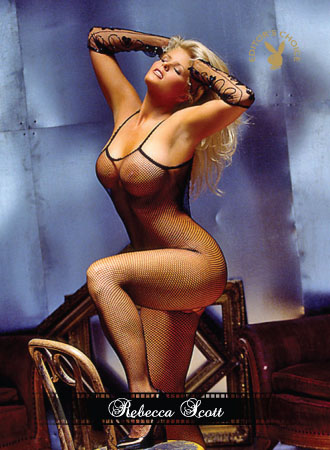 Chase Set

What's Inside
9 different "Playmate of the Year" Gold foil cards
6 different "Editor's Choice" Gold foil cards
9 Gold Foil Chase cards per box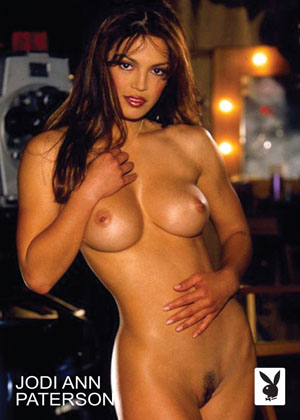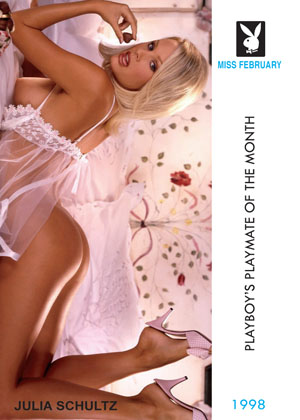 Base Set

What's Inside
75 Card Base Set including
2 Checklist Cards
1 Preview Card