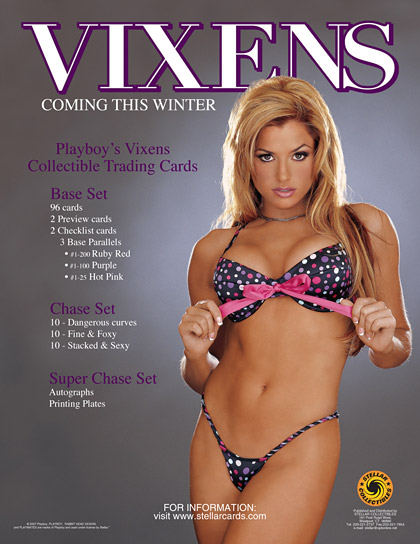 About Us
Stellar Collectibles publishes and markets collectible trading cards of high quality and value. We have produced promotional and collectible products since 1960.
Our goal is to increase the value of the Playboy trading cards. To accomplish this goal, we have assembled a creative team which has 28 years of experience in designing and developing products for the discerning collector. We have limited the quantity of items produced for each release, maintained a consistent wholesale price, increased the quality of the card stock to 20 point stock, and UV coated each card so it can accept autographs. Our improvements have increased the value and collectibility of the cards at the time of their release and after.
Please contact for More Information
This is the exclusive Playboy trading card web site.
Our company publishes and distributes collectible trading cards for the discerning collector.
We sell our cards through an international network of distributors throughout the United States, Canada, Europe and Australia.
We produce four unique card sets annually.
For each release, we produce cases, which contain packs in boxes, leather bound premium factory sets and factory sets.
You can view our currently available products on this site.
We will also preview our upcoming sets on this site as information becomes available.
Come visit us regularly to see new and exciting adult trading cards.
If you would like to become a distributor please CONTACT US.
If you are interested in purchasing any of our products please contact one of OUR DISTRIBUTORS.
Note: You must be over the age of 18 to enter this site.
This site is best viewed in 1024 x 768 pixels.